For our music video, website and album cover it was clear that we did follow conventions expected
of our genre for a female neo-soul/R&B artist. These genre conventions were followed to maximise our artist's appeal to our target audience. Although there was certainly a lot of creative experimentation with our artist for the creation of an image that would appeal to our young, urban target audience, who would want to see something new and fashionable.
Music Video
Mind map for Andrew Goodwin's music video theory
We definitely applied the conventions of music videos from Andrew Goodwin's theory by effectively showing an intertextual reference to Mobb Deep in order to relate the visuals of the song to the lyrics that reference the Mobb Deep album Shook Ones Part Two. This was shown through the long shot of Layla Obi singing the lyrics whilst having a projection of a Mobb Deep cypher projected onto her and the background behind her.
There was constant referencing to the lyrics throughout with our use of visuals. This is shown simply with the referencing towards fairy lights by visually showing the silhouette of Layla Obi dancing in front of fairy lights in the studio shots as well as the use of red and blue lights referencing a police siren and the visual image of flashing lights and strobe lights all visually expressed through our use of lighting in those studio shots.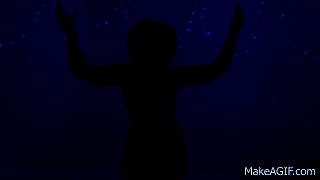 Visuals referencing to 'fairy lights' image



We took much inspiration from music videos in our genre, e.g. Seinabo Sey who is a young, British R&B singer. In her music video 'Hard Time' there is a striking eye opening close up, which seems very intimate and voyeuristic. We decided to copy this type of shot right at the start of the music video. Our voyeurism is not as simple as Goodwin's ideas of purely sexual voyeurism with close ups of dancing bodies synonymous with the mainstream music industry. However, our song is not being conventional with mainstream R&B, but instead has more of an artistic feel rather than getting the attention and appeal of that mainstream audience with shots of hypersexualised studio dancing.
However, the voyeurism in our music video did not just stop with our studio shots, but also translated through to our location shots for the male narrative. Our use of voyeurism, therefore, was not gender specific. The shots focusing on the eyes and perspective of our character in the male narrative were very much voyeuristic, as the audience was following him and his journey through London through a personal perspective. This is similar to the voyeuristic shots in the narrative from the London neo-soul song from the music video by NAO called 'Fool To Love'.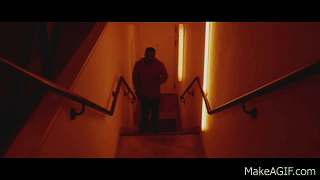 Perspective voyeurism in the video for NAO 'Fool To Love'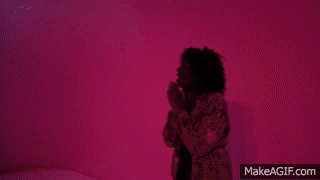 Voyeurism in the zoom out from eyes shot
Mind map for Carol Vernallis' music video theory
Certainly our male narrative dream sequence falls into Carol Vernallis' Theory, which supports the use of quick editing not being continuous and building atmosphere through more of a contextual depiction of the song's lyricism rather than a simple narrative editing. The narrative in this dream sequence is of a man running away from his own psyche and the fears he has towards the police in London. The narrative is, therefore edited discontinuously and shows the contextual ideas showing the damaged psyche of the young man in the male narrative through a variety of disorientating shots.
This is clearly shown through the pacey, discontinous build up of shots at the start of the dream sequence, which even foreshadows the future ending of the dream, which is him being shot by a shadow of his own imagination.This shot itself of the shadow shooting was heavily influenced from the Jaden Smith video 'Scarface', who I think would also fit into our target audience, as a fashionable young rapper with a very modern sound with influence from neo-soul/R&B music as well as more urban music such as trap and hip-hop similarly our song had influence from the London urban music genre grime as well as neo-soul and R&B. Also the music video 'Scarface' had a narrative of a young man travelling around a city with a discontinuous montage of these travelling shots.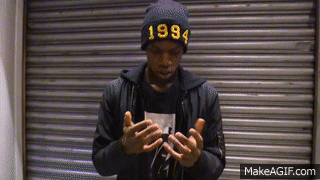 Shadow death at the end of the dream sequence
Non Linear quick pacey start to the dream sequence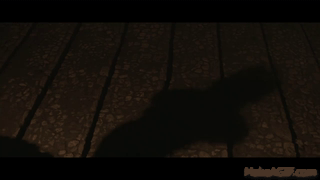 Jaden Smith 'Scarface' shadow death idea
Mind map for Simon Frith's music video theory
Most music videos for mainstream R&B songs are hypersexualised with stories about love, relationships and breakups. An example of this is from the music video for 'No Substitute Love' by Estelle. Our video challenged the conventions of these, because firstly our artist is not just an R&B artist or a mainstream one at that, but rather has a modern, urban neo-soul sound as well.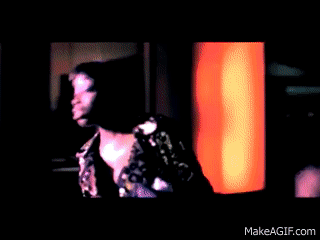 Conventional R&B music video with sexual voyeurism and a love story narrative in video for 'No Substitute Love' by Estelle
Also there are music videos out there that do also have deep underlying political messaging about matters regarding black identity and police brutality on the black population, such as most famously Beyonce's recent music video 'Formation', which also was making a topical social point over the vulnerability of people with black ethnicity suffering from police brutality. The dream sequence in our video similarly connotes deep social messages with a black man running away from the police feeling that he has done something wrong even though there is no apparent evidence claiming he has, as that is the social conditioning prescribed on him as a young black man growing up in London. There even is a shot of him running away from policemen in the music video referencing the lyrics of the song to do with this sampled from the grime song 'Sirens' saying, "Don't you run when you hear the sirens coming".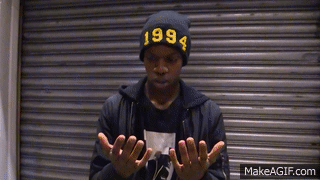 Conceptually representing lyrics of the song for 'blood on hands' lyrics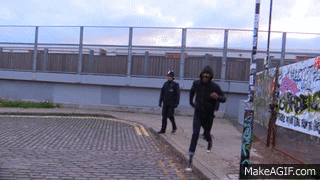 Running away from police
There is much symbolism in our music video to connote messaging for feeling guilty and paranoid towards the police for no reason, this is shown most apparently through the quick change of shots between the black male in the male narrative and Layla Obi in the studio shots to show a physical representation for the lyrics 'blood on your hands but you don't know where it's from'. This fits right in with Simon Frith's way of thinking that a conceptual understanding of lyrics can be shown through the use of symbols to connote the lyrics. This one clip also embodies the performance aspects of the music video working alongside a clear narrative story for us to understand of the dream sequence in the male narrative of a young black man running away from his fears and from the police to eventually die after being shot by a shadow of his own imagination.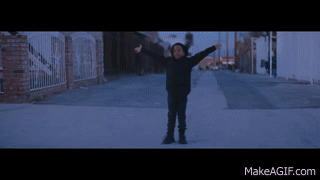 Aforementioned political message from Beyonce's 'Formation' music video
Website
In the presentation below, one can see research into the conventions of an artist's website as well as our fundamental website inspirations of certain artists and how we applied the conventions we saw into the structure, utility and presentation of our website. The presentation is split up into three main sections the functions of the website, the construction of an artist's brand image and the interactivity of the website.
Album Cover
Below is a 'Padlet' showing information for our inspirations and conventions followed for the creation of our album cover.

Conclusion
Overall our group has created various media products that do use, challenge and develop forms and conventions used for the construction of a music artist's music video, website and album cover. We did subtly change certain conventions in order to make our artist stand out a bit to make these media texts seem more interesting and appealing to Layla Obi's young and trendy target audience. However, it is difficult to claim that we did challenge many genre conventions, as the genre itself of the song 'Blue Lights' is open to interpretation and despite having certain R&B influences, it is certainly not from the mainstream R&B genre.